<!nsnewstextstart>Keeping their music informal


By Layne Christensen
News Reporter
layne@nsnews.com

* Pro Nova Ensemble in concert, 7:30 p.m. May 28 at Mount Seymour United Church. Admission is free.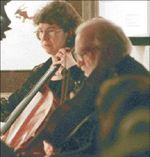 CELLIST Audrey Nodwell and violist Hans-Karl Piltz form one-half of the Pro Nova Ensemble. The chamber music group performs its final concert of the season tonight at Mount Seymour United Church.
THE idea of chamber music is to keep it as informal as possible, says violist Hans-Karl Piltz.
Piltz is a member, with Aurora Felde, Sandra Fiddes and Audrey Nodwell, of the Pro Nova Ensemble.
There could be nothing more informal than the North Shore-based ensemble's seasonal performances at the Ferry Building Gallery.
When the tiny seaside gallery fills to a capacity crowd, a handful of music lovers inevitably spill out the door to the back.
With the door ajar, the rumble of passing rail cars drowns out the strains of Mozart or Haydn and the musicians are forced to pause for a moment.
"We just wait for the noise to quiet down before we continue playing," says Piltz, who takes this unceremonious interruption in stride.
The audience at the ensemble's final performance of the season will enjoy no such endearing eccentricities. Tonight's concert venue, Mount Seymour United Church, is nowhere near a rail line. What the venue does boast is something the Ferry Building cannot offer: a piano.
Pro Nova will be taking full advantage of the situation by adding guest artist, pianist Allen Stiles to the bill. Stiles will join the ensemble after intermission to perform Ernst von Dohnanyi's Quintet in C Minor for Piano and Strings, Opus 1.
"We have our coffee and then we bring out the heavy artillery," says Piltz jokingly of the show-capper.
Leading up to Dohnanyi's quintet -- "a big, emotional heart-on-your-sleeve kind of piece," says Piltz -- will be performances of Beethoven's String Quartet, Opus 18, No. 5 and Canadian composer Murray Adaskin's 1963 String Quartet No. 1. <!nsnewstextend>